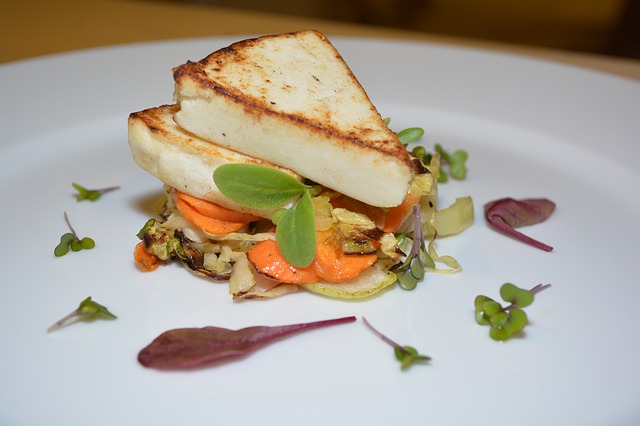 If you've ever eaten at a French restaurant, you've likely seen a lightly fried goat cheese medallion served on some kind of bed of greens. We love fried foods (who doesn't?) and that'a why we've made some modern and fun suggestions about how to treat this French fare. We've swapped out panko breadcrumbs (in lieu of traditional bread crumbs) to give it a bit more flavor, and we're throwing in some unusual combinations that will wow your guests.
Read on to learn more about making fried goat cheese medallions, a quick and easy fried goat cheese recipe.
Fried Goat Cheese Medallions or Rounds
Note: prep your goat cheese first by placing it in the freezer for 15 minutes to get it nice and firm for slicing. You can slice using a very sharp knife (rinse or wipe down in between) or, better yet, use a very thin wire or plain dental floss. That's how the pros do it. The cheese may flake when you slice it. Just mold it back together with your hands. You can prep medallions ahead of time and keep them in the refrigerator until you're ready to eat.
Ingredients
1 11-ounce log of plain goat cheese
2 eggs, beaten
1 cup panko bread crumbs
1 1/2 tsp. dried parsley
1 tsp. dried thyme
1/2 tsp. garlic powder
1/2 tsp. white pepper
1/2 cup flour
Peanut or olive oil for frying
Combine all of the dry ingredients except the flour.
Take the goat cheese out of the freezer and slice into 1/4-inch rounds.
Dredge each goat cheese medallion in the flour.
Dip a round in the egg bath and then coat evenly with the panko mixture.
Repeat, placing each breaded round on a cookie sheet covered with wax paper, until all the rounds are completely breaded.
Heat a large sautee pan on medium high heat. Add 1/4 inch of oil until it heats evenly (just before smoking). Place medallions one by one in oil, turning as soon as they brown on one side. Note: the cheese will melt quickly, so make sure the oil is nice and hot and pay close attention as this process happens very quickly.
When

goat cheese medallions

are browned on both sides, drain on paper towels before serving.
Serving Suggestions for Fried Goat Cheese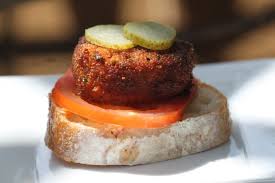 Make a goat cheese salad of baby greens topped with a white balsamic vinaigrette.
4-6 servings of baby greens or salad mix
1/2 cup extra virgin olive oil
3 tbsp. white balsamic vinegar
1/2 tsp. salt
1/4 tsp. ground black pepper
Toasted walnuts or pine nuts (optional)
Whisk wet ingredients together until completely emulsified. Toss baby greens with dressing and evenly distribute on salad plates. Top with 1-2 goat cheese medallions each, top with toasted nuts and serve.
Other Serving Suggestions
Slice up a nice, crusty baguette and serve the fried goat cheese with a variety of compotes (quince paste is always delightful), honey, cured meats (hello, prosciutto!), balsamic syrup, olive oil or a nice, bright olive tapenade for a brinier flavor. Place each piece of fried goat cheese on an individual place and let your guests literally customize each bite according to their own tastes. Add some dried fruits, like currants, cranberries, and cherries along with candied and roasted nuts for a little more texture and crunch.
Extended Reading