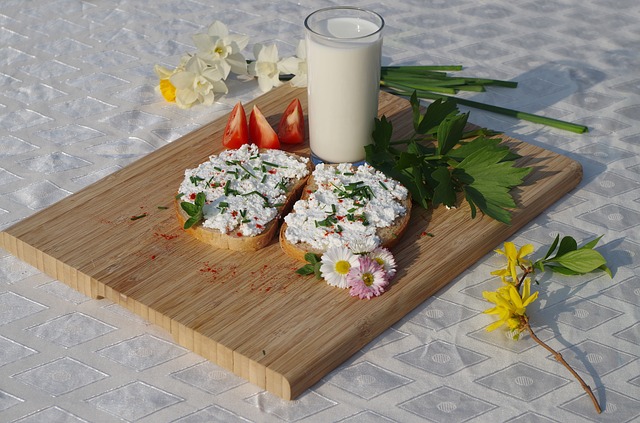 Like cream cheese and other soft cheeses, goat cheese lends itself as an excellent base for infused cheese spreads. Because chevre is such a simple ingredient, it lends itself to all types of flavor combinations, including dried fruit, herbs, garlic, and more. The process starts simply enough with chevre that has been softened at room temperature, and then you can really get creative.
Tips for Making The Best Goat Cheese Spread
As we stated above, make sure the cheese is softened at room temperature. It needs to sit outside of the refrigerator for roughly an hour. Also (and this may be obvious, but humor us): use plain goat cheese. The whole idea is to add your own unique twist, so there's no point in getting the stuff that's already been flavored for you.
Also: use fresh herbs. The dried stuff is fine for rubs, sauces, roasts, etc., but in this context, we want the herbaceous, fresh flavors. You can find plenty of fresh herbs in the produce section or, if you're feeling adventurous, your local farmer's market.
Delicious Dill Goat Cheese Spread
How easy is this? Get a log of your favorite goat cheese, roll it in some dill, and presto! A fantastic goat cheese spread with bright flavors everyone will love.
Ingredients
One 11-ounce log of goat cheese
One medium bunch of fresh dill
Saran wrap
5 minutes of your time
Divide the log in two equal parts. Roll into balls, using the saran wrap to help shape them. Cover both in the saran wrap separately and refrigerate for about an hour.
Wash and completely chop the dill. Remove the cold goat cheese from the refrigerator, discard the saran wrap.
Roll each ball of goat cheese in the dill until its fully coated.
Serve this herbed goat cheese spread on your favorite cheese plate with crusty bread, water crackers or, for a little twist, a mini pumpernickel loaf. It really makes an awesome goat cheese spread for crackers.
Sundried Tomato and Roasted Red Pepper Goat Cheese Spread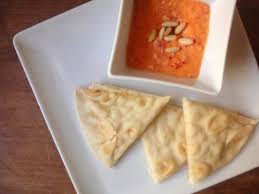 This goat cheese dip has all the flavors of the Mediterranean, and takes almost no time to prepare.
Ingredients
11-ounce log of plain goat cheese, room temperature
3 medium red bell peppers
2 tbsp. cream cheese, softened at room temperature
2 tbsp. heavy cream
1/4 cup sundried tomatoes
1/4 cup chopped Italian flat leaf parsley
Soften the sundried tomatoes in hot water until soft. Drain and discard water.
Roast the red peppers on your gas burner or in the broiler. You'll know they're finished when the entire exterior of the pepper is blackened. Place the peppers in a bowl and cover with a tea towel or saran wrap for about a half an hour. Peel the peppers (rinse the black coating off in the sink is the easiest method), discard the seeds, core and stem.
Coarsely chop the tomatoes.
Add the peppers to a food processor and puree until smooth. Add the goat cheese, cream cheese, heavy cream and blend until smooth. Scoop out dip into a bowl and scrape sides with a rubber spatula. With same spatula, slowly fold in chopped tomatoes. Place in serving bowl, top with chopped parsley and serve.
What are you waiting for? Get started making your own goat cheese dips and spreads!





Extended Reading