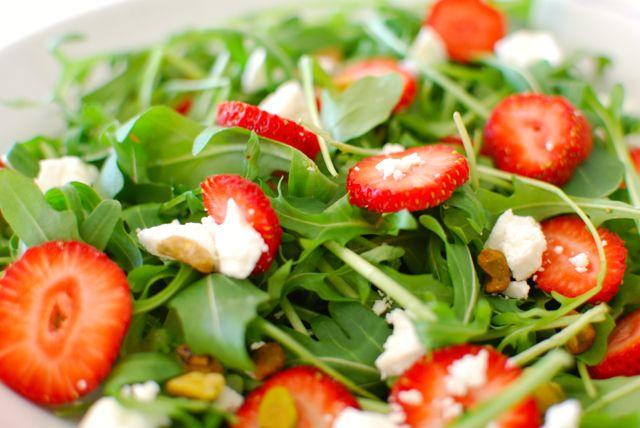 The pairing of spicy, fresh arugula and creamy, tangy goat cheese is a perfect salad year round. The flavors complement each other beautifully and are a great foundation for all types of other ingredients like pears, apples and cured meats. The following arugula goat cheese walnut salad is topped with candied walnuts and a delicate balsamic honey mustard vinaigrette to add some sweetness.
The dressing for our arugula goat cheese salad can be used for almost any type of salad you can think of.
Arugula Goat Cheese Walnut Salad Recipe
Ingredients:
1/3 cup extra virgin olive oil
2 Tbsp dark balsamic vinegar
One garlic clove, pressed through a garlic press
1 tsp honey
1 tsp brown mustard
Salt and pepper
6 cups fresh baby arugula, washed and drained
3-4 ounces soft goat cheese (chevre), crumbled
1/2 cup chopped candied walnuts
2 medium shallots
2 Tbsp butter
2 Tbsp sugar
1 Tbsp olive oil
Peel and dice your shallots. Place a medium sautee pan over medium heat. Add oil and butter until butter starts foaming slightly. Add shallots and stir until translucent. Reduce heat slightly and stir in sugar until it dissolves and shallots turn golden brown. Place in separate bowl and set aside.
Whisk together oil, balsamic vinegar, garlic, honey and mustard until thoroughly blended. Add salt and pepper to taste.
In a large salad bowl, toss together the arugula and dressing, with maybe 2 Tbsp in reserve. Once tossed, top the salad with the caramelized shallots, goat cheese and candied walnuts. Top with the rest of the dressing and serve.
Serves Four
Tip: While you don't want to toss the salad too soon, you do want the arugula leaves to wilt prior to serving, so let the leaves sit 2-3 minutes in the dressing prior to dishing it up.
What to Serve with Your Arugula Goat Cheese Salad
There's nothing quite like a nice slab of crostini on the side. If that sounds like too much trouble for a quick weeknight supper, grab a nice loaf of crusty baguette or batard to soak up the delicious dressing when you've cleaned your plate. (Trust us: you will clean your plate.) If you're entertaining, this arugula goat cheese walnut salad is spicy enough that it could handle a lighter red like a pinot or a zinfandel. Of course, it can handle a white wine, and would pair well with a heavier sweet wine, or even a sparkling muscato, if you and your guests like something sweet.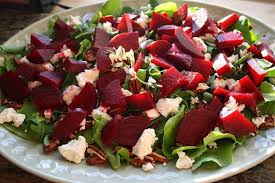 Arugula Goat Cheese Salad: Last Thoughts
Think of the recipe above as a blank canvas. If you want to make this arugula goat cheese salad into a meal, add cooked chicken or cured meats like salami. Toss in a half a can of drained, rinsed garbanzo beans for a vegetarian protein option. If you want to add some color, roast up some red and golden beets, slice them into quarters and add those in as well for a well-rounded beet salad with goat cheese and walnuts. If you're not a fan of walnuts, add toasted pumpkin seeds or roasted pine nuts for a slightly different flavor. Of course,  a fresh arugula pear goat cheese salad is popular in the fall. Top with bartlett, Asian or a crisp anjou. Dried fruits are also natural match for arugula goat cheese salad, so sprinkle with dried cherries, cranberries and golden raisins.





Extended Reading