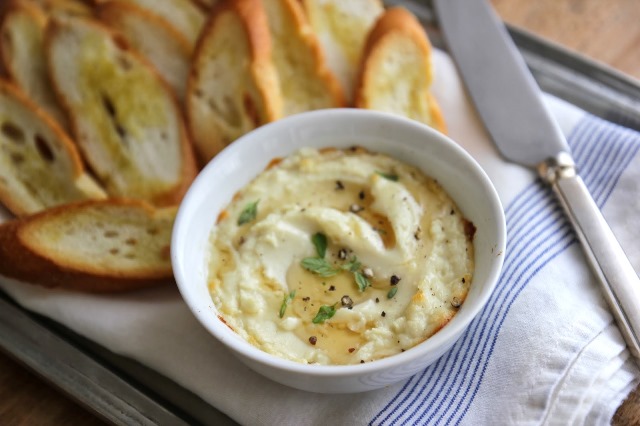 Sometimes, appetizers are best served warm. We love apps that can be tossed in the oven right when our guests arrive, filling the house with aromas that will get everyone's mouth watering. As soon as you pull this dish from the oven, make sure everyone has a glass of something and a napkin, and serve it right from the roasting dish. This baked goat cheese dip is great because it becomes an instant gathering place for everyone before the meal. Is there any better way to socialize than over a shared plate? Inspired by one of our favorite tapas, this baked goat cheese dip recipe will be a surefire hit at your next party.
Read more for our favorite baked goat cheese dish!
Our Favorite Hot Baked Goat Cheese Dip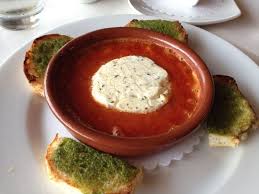 We're recommending  this warm goat cheese appetizer because it's everything your guests love (colorful, flavorful, savory, and satisfying) and everything that a social cook loves along with it (easy, quick, simple, tasty, low maintenance). A fantastic goat cheese appetizer that takes almost no prep or cooking time, and that can be served right from the pan is a fabulous choice for dinner parties or informal gatherings of friends and family . Make it a dinner for two, and serve with a salad and a veggie on the side (we like roasted asparagus or buttery green beans).
Inspired by the hearty Spanish dish, Queso de Cabra con Tomate, this easy-to-make goat cheese dip is simple enough for any beginner, and will impress and satisfy any foodie. The key? High quality marinara sauce. Buy it or make it yourself. Skip the cheap stuff in a jar or this baked goat cheese app will just not have the kick it deserves.
Ingredients
8 ounces goat cheese, softened at room temperature
1 cup rich, hearty marinara sauce
1/2 cup chiffonade of basil leaves (or basil leaves cut into tiny "ribbons")
Preheat oven to 350 degrees.
Place goat cheese in a shallow baking dish. (A ceramic tart pan will do nicely.) Flatten the cheese to 1/2 inch, leaving a shallow border around the edge of the dish. (This will vary depending upon the size of the dish you use.)
Pour the marinara sauce on top.
Bake for 20-25 minutes, until sauce bubbles and goat cheese is hot.
Want to Try some Variations on this Baked Goat Cheese Dish?
In lieu of marinara, try your favorite roasted tomato salsa (or roasted anything salsa; we like the earthy flavors). Swap out cilantro for basil and serve with tortilla chips instead of the garlic bread or crostini. This is a queso dish that everyone will talk about for weeks and is just as easy to make.
What to Pair with your Baked Goat Cheese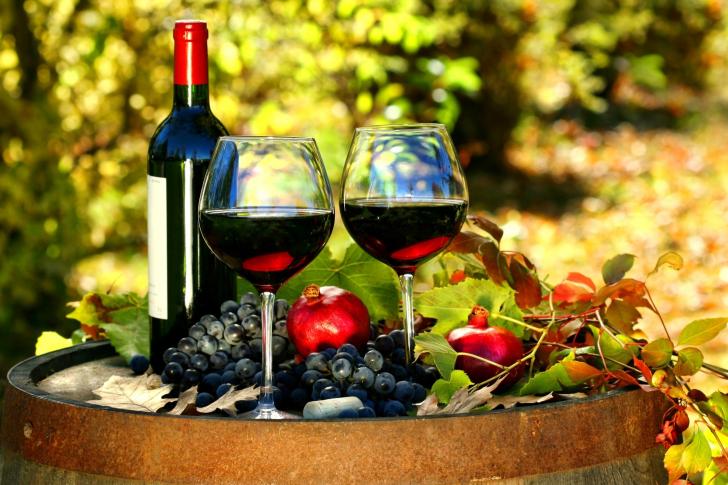 Because this is so hearty and rich, we think a hearty red is best. It can stand up to a rich, earthy cabernet. Any Napa variety will likely do, but we also really like the 2009 Columbia Crest cab. A nice Spanish Rioja red will also match this dish beautifully, as will any standard sangiovese or hearty chianti.
If you want to play with textures, feel free to mix in sundried tomatoes, toasted walnuts, and maybe a pinch of red pepper flakes to give this baked goat cheese a little kick.





Extended Reading