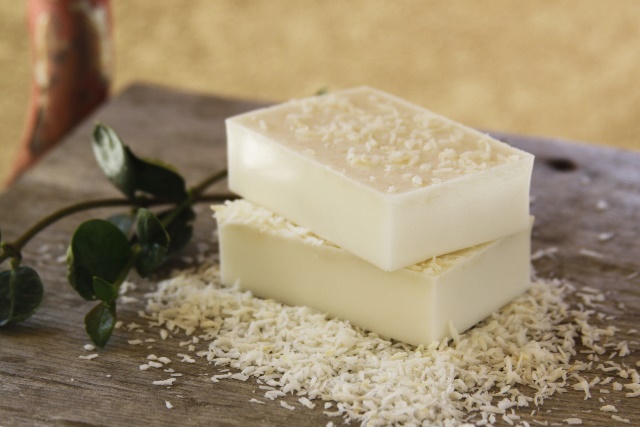 Goat milk makes an incredible soap that is perfect for sensitive or dry skin. It even provides powerful anti-aging properties to keep your skin young and healthy. If you have milking goats, making your own goat milk soap at home is a simple process, and one you'll be glad you undertook. In addition to giving you a greater level of self-sufficiency by taking one more item off your grocery list, making your own goat milk soap creates another source of income for your farm.
Benefits of Goat Milk Soap
There are many goat milk benefits for skin, from soothing acne to healing psoriasis and eczema. Here are five reasons you and your family should start using goat milk soap today:
Goat Milk Soap Makes Skin Look Younger
Goat milk soap has a high content of alpha-hydroxy acids like lactic acid which break down dead skin cell bonds. Dead skin cells are removed, leaving behind smooth, youthful skin.
Goat Milk Soap is Anti-Inflammatory
The fatty cream in goat milk soap provides a strong anti-inflammatory effect which soothes dry or damaged skin.
Goat Milk Soap is Chemical Free
Many super market soaps contain harsh chemicals to break down dead sin cells. Over time exposure to these chemicals can actually burn your skin, causing lasting damage. Goat milk soap is free from any harsh chemicals, using only natural acids to gently dissolves dead skin cells.
Goat Milk Soap is Packed with Vitamins
Each bar is full of essential vitamins including Vitamin D, C, B1,B6,B12 and E that nourish your skin.
Goat Milk Soap Fights Acne
Goat milk soap has antibacterial properties that slow the growth of microbes which spread acne.
Learn more: Benefits of Goat Milk Soap
How to Make Goat Milk Soap
You can make goat milk soap at home in your own kitchen. First you'll need a good recipe:
Homemade Goat Milk Soap Recipes
Here are two recipes that make beautiful, creamy goat milk soap. You'll see the best results if you use goat milk from your farm or a neighbors. Goat milk should be frozen immediately, then used to make soap at any time.
Simple Goat Milk Soap
12 oz coconut oil
15 oz olive oil
13 oz lard or vegetable oil
13 oz goats milk
6 oz lye – also called 100% sodium hydroxide
1 ounce essential oils, optional
additives such as oatmeal or lavender flowers, optional
Creamy Goat Milk Soap
20 oz coconut oil
20 oz olive oil
5 oz rice bran oil
5 oz avocado oil
4 oz castor oil
5 oz shea butter
5 oz sweet almond oil
18 oz goats milk
9 oz lye
Making the Soap
There are five basic steps to making goat milk soap:
Prepare the Lye and Goat Milk Mixture
The first step is to dissolve the lye in the goat milk. The key to success is keeping the mixture very cold. When you combine lye with liquid it produces heat. Not only can this mixture burn your skin, it can also scorch your milk, ruining the soap. Start with frozen goats milk. Use a metal or wooden bowl immersed in a larger bowl filled with ice water. As you mix the lye an milk together, keep adding more ice to the bowl so it stays cool. When all the lye is dissolved, set the mixture aside, but keep it on ice.
Prepare the Oils
Mix your oils together and heat them gently to 110-125°F.
Mix Lye and Oils
Slowly pour the lye and milk mixture into the oil mixture and stir. You can start stirring by hand, but later on you'll want to use and immersion blender to speed things up. Mix until the soap reaches "trace". This occurs when it becomes thick and smooth, like pudding.
Pour into Molds
You can buy soap molds or use homemade ones.
Cure
Remove the soap from the molds after 24 hours. At this point you can slice the mold into bars if you choose. Let the soap cure for about a month. During this time the lye will continue to react, slowly hardening the soap and removing any bite or sting left from the lye.
Voila! You've made your very own goat milk soap.
Where to Buy Goat Milk Soap
Of course, you don't have to make your own goat milk soap to enjoy the benefits on your skin. You can buy goat milk soap in a number of places. Just remember you are looking for unprocessed goat milk soap, preferably fresh from the farm. If you are not aware of a local goat dairy, ask someone at the farmer's market. Many natural foods stores have natural goat milk soap for sale as well.
You can also order unprocessed goat milk soap online from small batch producers like Goat Milk Stuff
Consider electric netting? Find one at www.electricnetting.com.au .





Extended Reading
Everything to Know About Goat Milk
Watch a master goat milk soap maker at work!