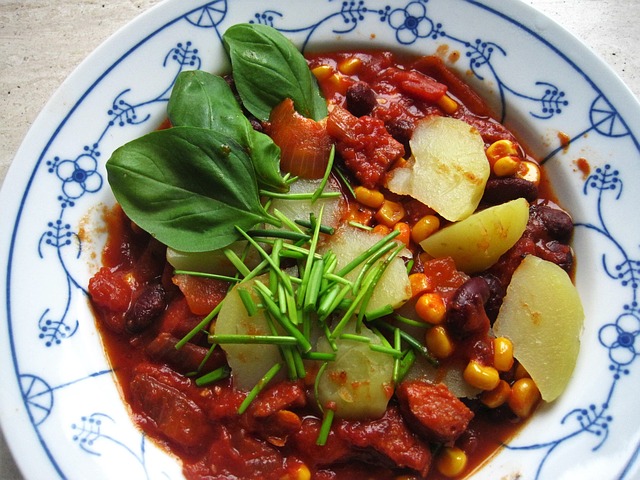 Stewed tomatoes are just regular canning tomatoes a little dressed up. They are cooked with onion, sweet pepper and spices before going in the jar. Canning stewed tomatoes makes cooking later on even easier. All the basic sauce ingredients are already added in. You can modify the ingredients to make your stewed tomatoes sweet, spicy or Italian.
Best Stewed Tomatoes Ever
Canning stewed tomatoes can be made in many ways. The key ingredients are tomatoes, onion, pepper, spices, a hint of sweetener and a bit of oil. You can experiment to find your perfect recipe.
Remember, the key to amazing stewed tomatoes is using great tomatoes. For canning stewed tomatoes you want a flavorful tomato, either a meaty variety like a Beefsteak or a paste variety like a Roma. Mixing a few kinds is fine. Of course, homegrown tomatoes are the tastiest of all.
In my opinion, this is the best recipe for canning stewed tomatoes. I think they come out even better than Grandma's stewed tomatoes, if you can believe that!
Canning Stewed Tomatoes: Ingredients
5 lb ripe Roma tomatoes
2 lb ripe Beefsteak tomatoes
¼ c olive oil
2 c diced sweet onion
1 ½ c diced celery
3 c diced bell pepper
1 jalapeño, diced
1/4 c fresh parsley, chopped
1/2 c fresh basil, chopped
2 Tbsp fresh mint, chopped
1 Tbsp honey
1/2 tsp red pepper flakes
Recipe for Canning Stewed Tomatoes
Bring a large pot of water to boil. Have a bowl of ice water ready.
Drop the tomatoes into the boiling water. Leave for 1-2 minutes till the skin starts to pull apart.
Remove to the ice bath.
Pull the skin off each tomato and place the naked tomato in the strainer.
Remove seeds.
Squeeze seeds through strainer or cheese cloth to get all the juice and pulp out. Discard seeds and skin.
In a heavy bottomed pot or Dutch oven, saute onion, celery, bell pepper, jalapeno, parsley, basil, mint, sugar, salt and red pepper flakes in the olive oil for 10 minutes.
Add tomatoes. Bring to a boil, reduce to a simmer and cook for 10 more minutes.
Adjust seasoning to taste, and follow instructions below for canning stewed tomatoes.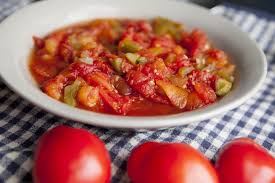 Steps for Canning Stewed Tomatoes
Once you mixed your ingredients together, canning stewed tomatoes is not so different from canning regular tomatoes. Follow these simple steps for canning stewed tomatoes at home:
Sterilize Jars and Lids
Follow your Favorite Recipe for Stewed Tomatoes
Fill the Jars to 1 Inch from the Top with Stewed Tomatoes
Top with 1-2 tbsp Lemon Juice to Preserve Flavor and Color
Fill to 1/2 Inch from the Top of Jar with Boiling Tomato Juice
Screw Lids on Snugly
Place Jars in Pressure Canner without the Weight – there should be 3 inches of water in the bottom of the canner.
Let the Canner Vent Steam for 10 Minutes
Put the Weight On (or Close the Valve) and Process:
Pint Jars: 15 Minutes at 10 Pounds Pressure
Quart Jars: 20 Minutes at 10 Pounds Pressure
Adjust According to Altitude
Lift Jars Out of Canner and Let Cool Overnight.
Check Seals
If any of your jars have not sealed properly, place them in the refrigerator and use them within the next week.




Extended Reading
The Complete Guide to Canning Tomatoes
Learn all about canning stewed tomatoes with Noreen's Kitchen: