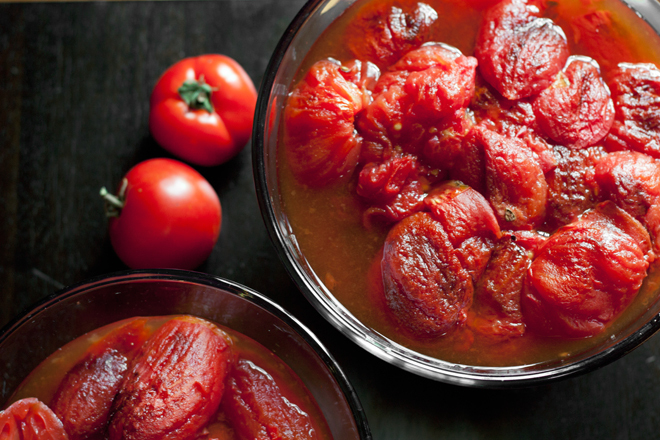 If your pantry is well stocked with canned tomatoes, you're prepared to whip up all variety of soups, sauces, curries and pizzas. But overtime all those recipes using canned tomatoes can end up tasting the same. You need to jazz up your kitchen and do something different.
Great cooks know that even the best recipes with canned tomatoes occasionally need a twist. Here are five creative ways to use canned tomatoes:
1. Roast Canned Tomatoes
Roasting brings out the flavors of canned tomatoes, especially their sweetness. It is easy to do. Simply drain whole canned tomatoes, crush them gently with your hand or a fork, and place them on a well-oiled baking tray. Drizzle with oil, salt, pepper and your favorite spices and roast at 350° F until caramelized, about 1 1/4 hours.
Try using roasted canned tomatoes in your favorite recipe for:
Pizza Sauce
Pasta Sauce
Tomato Soup
Tomato Based Curry
2. Slow Cook with Canned Tomatoes
Some of the most delicious meats must be simmered for hours to reach tenderness. Tasty cuts like ox tail, tongue or short ribs benefit from cooking slowly in liquid over low heat for 3-4 hours.
Canned tomatoes make a perfect base for simmering meat. Add onions, garlic and spices depending on your final recipe. You'll need a little extra liquid, but try adding wine or stock instead of water for extra flavor.
3. Use Canned Tomatoes Raw
You don't have to cook your canned tomatoes to make a delicious sauce. Try using them raw to make salsa or a refreshing Gazpacho soup in the summertime.
Here is one great salsa recipe you should try:
Homemade Salsa with Canned Tomatoes
Ingredients
2 14 oz cans of diced or whole tomatoes
1 medium onion
4 medium cloves garlic
1 jalapeno pepper (or serrano, or habanero if you're bold!)
2 tsp fresh lime juice
1 tsp salt
1 tsp cracked black pepper
6 Tbsp cilantro
Mix in the food processor, saving the tomatoes for last. For a slightly chunky salsa only use the pulse setting on your food processor after the tomatoes are added. Puree thoroughly for a smooth salsa. Serve immediately or refrigerate overnight for improved flavor.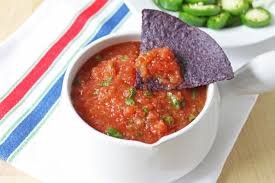 4. Subtly Brighten the Flavor of Canned Tomatoes
You can make a simple tomato sauce or relish stand out with the subtle use of sweet and tart flavors. A splash of lemon juice or vinegar, a spoonful of honey or brown sugar will make all the difference. Here's a simple tomato relish recipe that is a great example:
Sweet and Tangy Relish Recipe
Heat 1 tablespoon olive oil in a saucepan over medium heat.
Add 1 red onion, cut into wedges. Cook till soft.
Add canned tomatoes and a splash of red wine vinegar. Bring to a boil.
Add a teaspoon of brown sugar. Cook until thickened.
5. Use Canned Tomatoes in Drinks
Another great use for raw canned tomatoes is to make healthy drinks for your family. Canned tomato juices that kids love, like V8, are loaded with sodium. Make a low sodium tomato juice at home in your blender. If you have a juicer, add other veggies like celery, cucumber or carrot to add even more nutrients.
Of course, canned tomatoes also make a great base for a killer bloody Mary.





Extended Reading
The Complete Guide to Canning Tomatoes
Did you know you can dehydrate canned tomatoes? Make storing tomatoes even easier. Linda's Pantry shows you how.